Beyond Salsa Piano, Vol. 4 Intermediate 1979-1989
Volume 4 continues with the 30-year period between the Cuban Revolution and the Timba Revolution.
Chapter 1 analyzes the piano styles of the modernized conjuntos that became popular in the 1980s – Adalberto Álvarez & Son 14, Rumbavana Los Karachis, etc.
Chapter 2 deals with the modernized charangas: Aliamén, Maravilla de Florida's Manolito Simonet period, Original de Manzanillo, etc.
Chapter 3 covers the charangón phase of Orquesta Revé.
Read more and download free audio (LPM)
Our example from Volume 4 uses an approach which becomes more and more common in later volumes: a basic tumbao followed by a series of variations designed to develop the skill of "controlled improvisation" and to be able to invent variations without sacrificing time-keeping  accuracy or rhythmic feel.
Variation A (tumbao 1)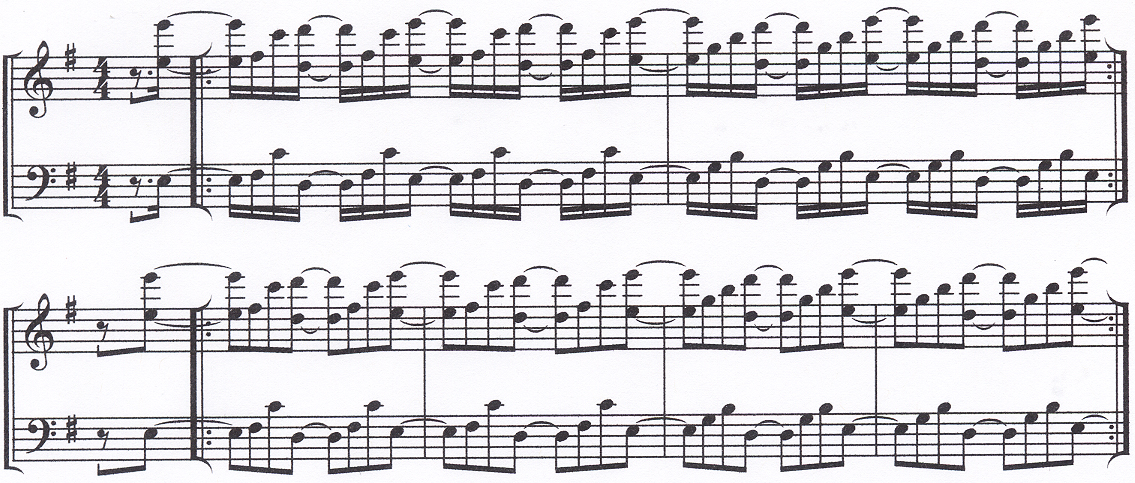 Variation B (tumbao 2)
Variation C (tumbao 3)
Variation D (tumbao 4)
Buy now