Beyond Salsa Piano, Vol. 2 Intermediate 1940-1959
In the 1930s, the role of playing the primary tumbao began to move from the tres and violins to the piano and by the 1950s, groups like Orquesta Aragón began to combine piano and violin tumbaos in counterpoint.
Volume 2 is a history of all the Cuban subgenres of the pre-Revolution period and their tumbaos, analyzing the work of Jesús López, Peruchín, Lilí Martínez, Pérez Prado, Lino Frías, et al.
Groups covered include: Arcaño y sus Maravillas, José Fajardo, Orquesta Aragón, Beny Moré, Celia Cruz con Sonora Matancera, Orquesta Riverside, Machito, Chepín-Chovén, Peruchín, Pérez Prado, Conjunto Modelo, Chappottín y sus Estrellas, Orquesta Sensación, Orquesta América, etc.
Read more and download free audio
Examples from Beyond Salsa Piano, Volume 2
Chapter 1 is devoted to the seminal tumbaos of Jesús and Cachao López of Arcaño y sus Maravillas.

Chapter 1 also introduces the rhythmic underpinnings for the tumbaos which would later be used for chachachá. While "invented" by Enrique Jorrín, many of the rhythmic elements originated with Arcaño's group.

Chapter 2 pauses in the historical chronology to tackle the ever-present issue of clave, including a long series of clave exercises.

Chapter 3 studies the tumbaos of the Cuban big band or "jazzband" genre: Beny Moré, Pérez Prado, Orquesta Riverside, etc.
Chapter 4 studies the tumbaos of the charanga genre: Aragón, Fajardo, Sensación, Revé, etc. It also pays special attention to the idea of layering tumbaos, the foundation for all Latin music arranging.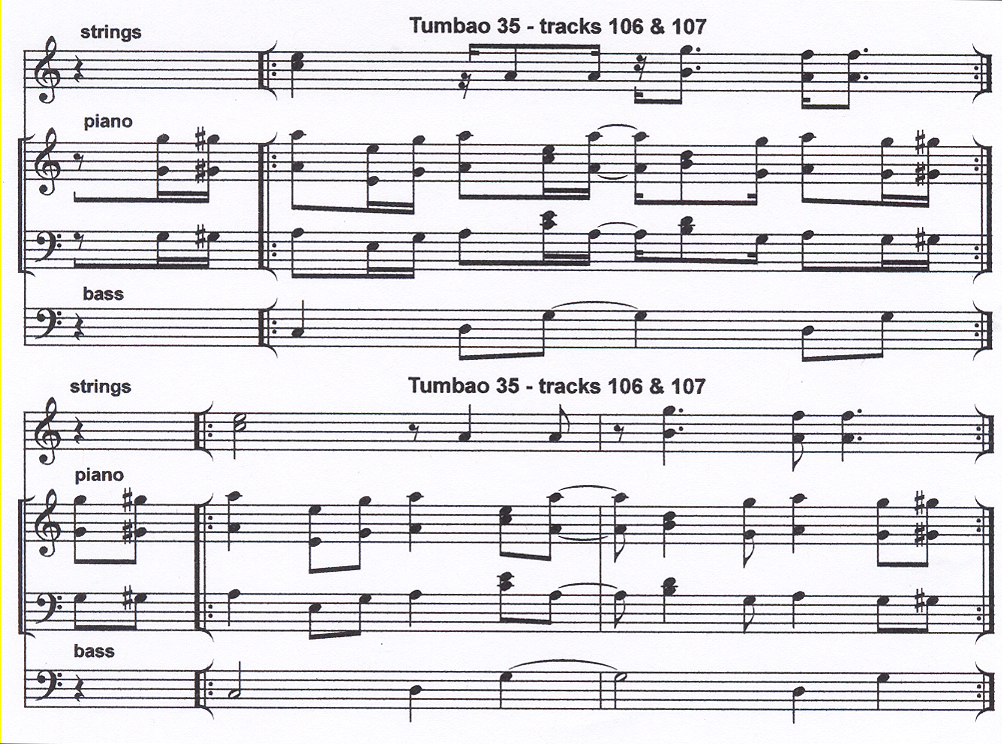 Chapter 5 studies the tumbaos of the conjuntos which took up the slack when Arsenio moved to New York: Modelo, Chappotín, Sonora Matancera, etc.
Chapter 6 returns to the technical side of things, showing how piano tumbaos relate to the clave.
Buy now